ASO Conducting Fellows Program
2022-2023 CONDUCTING FELLOWS PROGRAM
Program Sponsors: MARGARET & WILLIAM HECHT
The Conducting Fellows Program supports the opportunity for promising conductors to hone their craft and enrich their musical experience through mentorship and participation in the Allentown Symphony Association's orchestral and community programs.
The Conducting Fellows travel to the Lehigh Valley to work side by side with Allentown Symphony Orchestra Music Director and Conductor Diane Wittry, in advance of and during the production of a Classical Series concert. Along the way, they learn intricacies involved in assembling and leading a regional symphony.
Fellows also meet with Association staff to learn the range of activities necessary to operate a symphony orchestra. Their visit includes a stop at the exemplary community-based program,
El Sistema Lehigh Valley.
We are proud to announce the Allentown Symphony Conducting Fellows for the 2022-2023 Season:
MEGAN MADDALENO
Classical Concert #1 | Beethoven & Rachmaninoff
October 15 & 16, 2022
Megan Maddaleno is a current Doctor of Musical Arts student in Orchestral Conducting at The University of Iowa. She has had the immense privilege of conducting the orchestral ensembles, new music initiatives, opera and musical theatre productions, as well as studying under such respected conductors as Dr. Mélisse Brunet, Dr. William LaRue Jones, David E. Becker, and opera conductor, Wayne Wyman. This past spring, she collaborated with the Department of Theatre and Dance on the production String by Adam Gwon, and in November of 2021, she conducted Three Decembers by Jake Heggie.
A passionate educator, Megan is currently the Director of Orchestral Activities at University of Wisconsin - Platteville. Prior to pursuing her graduate degrees, she was the Musical Assistant for the Missouri Symphony Society Conservatory and collaborated with the Missouri Composer's Project and Columbia Civic Orchestra to conduct premieres of local composers. In recent years, she has acted as Cover Conductor for the Missouri Symphony under Kirk Trevor.
This year, Megan will be covering Mélisse Brunet with the Lexington Philharmonic and has covered concerts for the past two seasons for the Northeastern Pennsylvania Philharmonic.
Megan Maddaleno received her Bachelor of Music Education degree from Webster University, and her Masters of Orchestral Conducting from The University of Iowa.
---
ALEX ARELLANO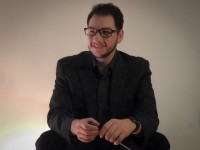 Classical Concert #2 | Vaughn Williams, Barber, & Bernstein
November 9 & 10, 2022
Martín Alexander Arellano is an active conductor and composer from California, USA. Alex is the founder and current Artistic Director of the Central California Youth Wind Ensemble based in Turlock, CA that premiered its first season in 2015. He is currently completing his Master of Musical Arts in Orchestral Conducting at the University of Iowa with Dr. Mélisse Brunet where he assists with the University Symphony Orchestra and serves as Director of the Campus Symphony Orchestra. Alex has served as assistant conductor for the University of Iowa Opera Theater where he assisted productions and conducted the final performances of Gilbert & Sullivan's HMS Pinafore, and Domenico Cimarosa's Il Matrimonio Segreto.
Alex's past conducting teachers include Dr. Stuart Sims (CSU: Stanislaus), Dr. Robert Carnochan, and Dr. Stephen Moore (University of Miami). In 2021, he received his COP (Cycle d'Orientation Professionnelle) Diploma at the Strasbourg Conservatoire in France where he studied with Austrian conductor Theodor Guschlbauer and Argentinian conductor Miguel Etchegoncelay.
Alex is a native Spanish speaker and is conversational in French.
---
SILAS HUFF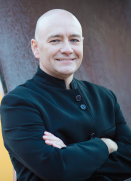 Holiday Pops
December 17, 2022
Silas Huff earned a Bachelor of Music degree in classical guitar, music theory, and composition at Texas State University, a Master of Arts degree in music theory and composition from UCLA, and a Doctor of Musical Arts degree from the University of Colorado Boulder under the tutelage of Maestro Gary Lewis. While in Los Angeles, Maestro Huff studied conducting with Maestro Donald Neuen at UCLA and Dr. Richard Rintoul at California State University Long Beach. Maestro Huff also spent one year in residence at the Trossingen Hochschule für Musik (Germany), six months studying privately in Berlin, and two summers at L'Institut Musical Provence-Aubagne (France). He has attended dozens of workshops led by the world's finest maestros, including Maestros Kirk Trevor, Neil Varon, Mark Gibson, Donald Schleicher, Markand Thakar, Gustav Meier, Joann Falletta, Jorge Mester, Michael Tilson Thomas, Carl St. Clair, Harold Farberman, and others.
---
ANOA GREEN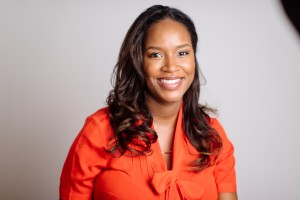 Classical Concert #3 | Still, Tian, Dvorak
February 11 & 12, 2023
Conductor, Music Educator, and Clinician Anoa Green is the Wind Studies Chair and Wind Symphony Director at Baltimore School for the Arts. She has been a music educator for sixteen years across all age groups, and has held her current position for fourteen years (2006-2020). She is known for her thoughtful and balanced approach to giving feedback as a jury panelist, chamber music coach and wind ensemble director.
Anoa Green's pursuit of conducting brought her to study with Kenneth Kiesler at the Medomak Conductor's Retreat (2007), Michigan University's Energize Wind Band Workshop with Michael Haithcock (2005), and additional orchestral conducting study with Jon Carney of the Baltimore Symphony Orchestra (2008). She has also given panels for WBDI, WBT, workshops, and outreach performances for Baltimore City Public Schools.
Anoa's passion for arts advocacy and urban education continues to be the bedrock and inspiration for her artistic and professional endeavors. She earned her BM in Music Education, with a concentration in clarinet and wind conducting at Northwestern University (2004). Green was awarded her MM in Music Education from Boston University (2017). She was awarded the Mark Joseph award (2007) and is a Carsons Scholar (2000). She holds memberships with Women Band Directors International (WBDI) and is the current Board Secretary of the Association of Black Women Band Directors (ABWBD).
---
JEFFREY KLEFSTAD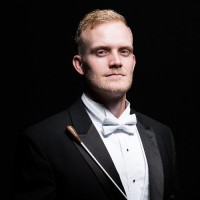 Youth & Family Concert | The Thrill of the Orchestra
February 22-25, 2023
Jeffrey Klefstad has firmly established himself as a vibrant conductor with a deep and thorough understanding of the orchestral repertoire. His attention to detail, innovative programming, and unique musical styling has garnered him recognition both nationally and internationally.
The 2022-2023 season marks Jeffrey's 10th season as Music Director and Conductor of Carnegie Mellon University's All University Orchestra, where he directs the AUO Symphony and AUO Chamber orchestras. Additionally, Jeffrey is the Assistant Conductor with Pittsburgh's Resonance Works, an award-winning, multi-modal performing arts company that focuses on chamber, opera, choral, and contemporary repertoire.
Jeffrey's work has led to engagements as a guest conductor with L'Orchestre symphonique conservatoire de musique de la Montérégie, the McGill Symphony Orchestra, and the McGill Contemporary Music Ensemble. He was selected as a Conducting Fellow for the Aurora Music Festival Orchestra (Sweden), and has served as cover conductor with the Pittsburgh, Memphis, and Akron symphony orchestras, and the Mendelssohn Choir of Pittsburgh. Additional ensembles he has worked with include the Bohuslav Martinu Philharmonic (CZ), Meitar Ensemble (Israel), and the Quasar Quartet.
Jeffrey holds music degrees from McGill, Case Western Reserve University, James Madison University, and Concordia College. His principal conducting mentors are Alexis Hauser and Guillaume Bourgogne.
---
YUCHI CHOU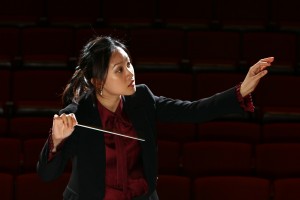 Classical Concert #4 | Boulanger, Ravel, Rogerson
March 11 & 12, 2023
Yuchi Chou enjoys an international career as a conductor and pianist, active on both symphonic and operatic stages. Yuchi was made winner of International Conductors Competition and Workshop in Atlanta, and a finalist for International Erno Lanyi Competition. Born in Taiwan, Dr. Chou has performed throughout USA, Europe, and Asia. Notable invitations are Ansbacher Fellowship with Vienna Philharmonic at the Salzburg Festival, Aspen Music Festival, Conducting Fellow and Assistant Conductor at Peninsula Music Festival and San Francisco Shenson Fellowship, among other international engagements. Dr. Chou has performed at Carnegie Hall, Chicago Symphony Hall, San Francisco Davies Symphony Hall, and Cleveland Severance Hall. Notable positions Yuchi Chou held include Music Director of Seattle Young Philharmonic, Mercer Island Baroque Ensemble, Community Women's Orchestra; Assistant Conductor of Peninsula Music Festival, and Northwestern University Symphony Orchestra; Coaching Conducting of San Francisco Symphony Youth Orchestra. Yuchi Chou is an alumnus of Northwestern University (Doctor of Music in Orchestral Conducting), San Francisco Conservatory (Master of Music in Orchestral Conducting) and Oberlin Conservatory (Bachelor of Music in Piano Performance). Dr. Chou is currently the President of the Bellevue Federated Music Club, and has a full piano studio where she challenges and nurtures young talented musicians.
---
EDWARD LEONARD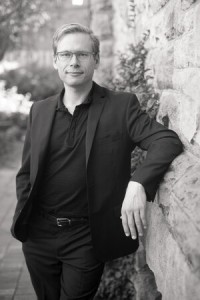 Classical Concert #5 | Coleridge-Taylor, Elgar, Tchaikovsky
April 15 & 16, 2023
Edward Leonard has established an outstanding reputation for his versatility and interpretation of an extensive repertoire. He is the founder and Music Director of The Chamber Orchestra of Pittsburgh, a non-profit ensemble currently in their seventh season specializing in works from the chamber orchestra repertoire, including the premiers of new pieces. At home equally both in traditional and new music, Mr. Leonard is in constant demand as a guest conductor at home and around the country, performing with the Pittsburgh Youth Chamber Orchestra, the OvreArts New Music Ensemble, the Savoyards Pittsburgh, the Midwest Chamber Ensemble, and the Eclectic Laboratory Chamber Orchestra. Mr. Leonard studied with Juan Pablo Izquierdo at Carnegie Mellon University, where he earned his Master's degree in Orchestral Conducting. While there he prepared ensembles for conductors including Sir Andrew Davis, Erich Kunzel, Thomas Baldner, and David Effron. For five summers he attended the prestigious Pierre Monteux School for Orchestra Conductors in Maine, where he studied with Michael Jinbo.
---
CHAOWEN TING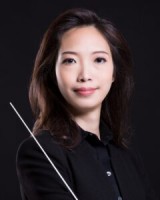 Pops Concert #4 | John Williams Tribute
May 5, 2023
Acclaimed by critics for her "brilliant" interpretations and "remarkable nuances," Chaowen Ting was recently named both as Conductor of the Peabody Youth Orchestra as well as Assistant Conductor of the Augusta Symphony.
A native of Taiwan, the ascendant maestra has led a number of the world's prominent ensembles, including the BBC Concert Orchestra, Opera Philadelphia, the St. Petersburg Chamber Orchestra, and orchestras in Switzerland, Norway, Germany, Croatia, and Honduras. In addition to her prolific musicality, Ting is also hailed for her award-winning leadership of countless music diversity initiatives, recognized via national grant awards and additional accolades.
Both on and off the stage, Ting seeks to democratize classical music by creating opportunities for diverse voices—audience, performer, conductor, and composer alike. She continues to actively commission music for orchestra and wind ensemble, having conducted premieres of over 20 works. In addition, Ting prioritizes the lifespan of the composers' creations beyond their performance premieres. Ting's performances often interweave new compositions, culturally relevant themes, and interdisciplinary presentation, presenting orchestral music in ways that excite not only the ears, but also the eyes and mind.
Ting has executed this artistic balancing act to high praise through her leadership within the Georgia Institute of Technology. As the institution's Director of Orchestral Studies, examples of her innovative performances include combining dancers, science, and the university's Math team (The Seven Bridges of Königsberg); integrating film, orchestra, and a smartphone app to bring awareness to marine noise pollution (Oceana); and using silent film to present a suite of newly composed works, among others.
In addition to audience engagement, Ting has made similarly bold efforts to generate equality within the classical music field. Through the ADORE Project, she connects composer and conductor, regularly featuring intermediate-level works of marginalized composers so that music students and amateurs can have increased access to music. In Girls Who Conduct, women, women-identifying, and non-binary conductors receive training, mentorship, and a professional network. Finally, hundreds of conductors from 30 continents tuned in for the 2020-2021 "Maestro as Professor" webinar series, as Ting joined Dr. Carolyn Watson to speak on industry issues relevant to those who seek to enter the music field.
Ting received a Doctorate of Musical Arts from the Eastman School and previous conducting education from the Cincinnati College-Conservatory (M.M.) and Mercer University (M.M.).
One of six conducting fellows chosen internationally by The Dallas Opera to join its Hart Institute for Women Conductors, Ting has also amassed a formidable résumé in the opera field. In 2017, Ting led Opera Philadelphia in a special workshop event with its Composer-in-Residence Rene Orth, collaborating with Orth to develop the composer's new opera, Machine.
---