ASO Conducting Fellows Program
2021-2022 CONDUCTING FELLOWS PROGRAM
Program Sponsors: MARGARET & WILLIAM HECHT
The Conducting Fellows Program supports the opportunity for promising conductors to hone their craft and enrich their musical experience through mentorship and participation in the Allentown Symphony Association's orchestral and community programs.
The Conducting Fellows travel to the Lehigh Valley to work side by side with Allentown Symphony Orchestra Music Director and Conductor Diane Wittry, in advance of and during the production of a Classical Series concert. Along the way, they learn intricacies involved in assembling and leading a regional symphony.
Fellows also meet with Association staff to learn the range of activities necessary to operate a symphony orchestra. Their visit includes a stop at the exemplary community-based program,
El Sistema Lehigh Valley.
We are proud to announce the Allentown Symphony Conducting Fellows for the 2021-2022 Season:
BRENT CHANCELLOR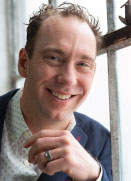 Classical Concert #1 | Mendelssohn's "Italian"
October 9 & 10, 2021
Brent Chancellor is Interim Music Director of Rutgers University Sinfonia, Music Director of the Rockland Symphony Orchestra and a Cover Conductor with the New Jersey Symphony Orchestra.
As the Founder and Artistic Director of LUX, his ambitious vision for programming and education has led to performances with Grammy® winning violinist Zach Brock and underrepresented young artists. A rising opera conductor, Chancellor is also Music Director of the New Jersey Vocal Arts Collaborative and a Faculty Conductor with the International Vocal Arts Institute.
Previous positions include Assistant Conductor with the Charleston Symphony Orchestra, Festival Napa Valley, Interim Music Director of the Rutgers University Sinfonia and Interim Music Director of the Montclair State University Opera Orchestra. He's served as an Assistant Conductor to Stéphane Denève, Martin West, Nicholas McGegan, Otto Tausk and Joel Revzen for concerts featuring André Watts, Leon Fleisher, Robert Levin, Seong-Jin Cho, Angel Blue and Lester Lynch.
SEBASTIAN SERRANO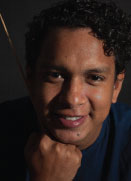 Classical Concert #2 | All Beethoven
November 13 & 14, 2021
An emerging conductor, Sebastian Serrano-Ayala is passionate about bringing energy, collaborative leadership, and dynamism to the musical experience. Current and most recent appointments include Symphony Tacoma and Saratoga Orchestra as part of their conducting fellowship programs and 2020-2021 concert season.
Other engagements have included the Royal Military Chapel "Johan Willem Friso'' in partnership with the World Music Contest (WMC) in Kerkrade, Netherlands, The United States Army Band "Pershing's Own" in Washington, DC, the University of Cincinnati wind ensembles and chamber orchestra, and The Andrews University Wind Symphony at Chiesa di Saint 'Ignazio in Rome and the Chiesa Santa Cristina in Bologna.
Serrano-Ayala holds a Doctorate of Musical Arts in Wind - Orchestral Conducting from the University of Cincinnati College-Conservatory of Music (CCM), where he studied with Terence Milligan, Kevin Holzman, and Aik Khai Pung, and a Masters in Conducting from Andrews University, studying with Alan Mitchell.
Sebastian has taken part in many masterclasses, including those led by Hugo Riaño, José Rafael Pascual Vilaplana, John E. Williamson, Michael Haithcock, Mallory Thompson, Jan Cober, Mark Heron, Sarah Ioannides, and Dianne Wittry.
Serrano-Ayala also holds degrees in music education from the Adventist University of Colombia (UNAC) and the Adventist University of the Philippines (AUP).
Sebastian enjoys researching and writing about the folk elements of his native Colombia and how they influence modern writing for the symphonic medium.
MICHAEL AVAGLIANO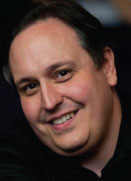 Holiday Pops
December 18, 2021
American conductor Michael Avagliano is obsessed with redefining what's possible for an orchestra. His focus on ambitious local collaborations and active community involvement have led to significant audience growth in both the Summit Symphony Orchestra and the Somerset Symphony Orchestra, all of which he serves on as music director. Largely inspired to become a conductor after a chance meeting with Leonard Bernstein, Avagliano continues to draw inspiration from the legendary maestro's twin legacies: exuberant musicianship and a devotion to broadening classical music audiences.
Constantly striving to meet new standards for musical excellence, Avagliano has twice led the Somerset Symphony to be named runner-up for the annual American Prize in Orchestral Performance; as a guest conductor, he has led over 15 orchestras across the United States and Europe. He also helmed the 50-year organization's first ever opera and ballet productions, and orchestrated a slew of new community partnerships with local organizations and schools, incorporating the artistic talents of young dancers and visual artists into performances he leads.
When not leading orchestras, Mr. Avagliano turns his attention to mentoring the next generation of young conductors, imparting skills needed both on the podium and off. In 2020, he created the online workshop, "Conducting the Interview" with Henry Fogel, former president of the League of American Orchestras, giving young conductors significant career-building skills in applying for positions as conductor and music director.
He resides in New Jersey with his wife, the violinist Evelyn Estava.
NELL FLANDERS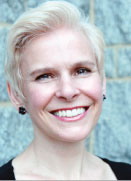 Classical Concert #3 | Romeo & Juliet
February 12 & 13, 2022
Conductor, violinist, and educator Nell Flanders currently holds the position of Visiting Lecturer in Orchestra Studies at the University of Maryland, Baltimore County, where she leads the UMBC Symphony Orchestra and teaches conducting. From 2018-2021 she served as the Georg and Joyce Albers-Schonberg Assistant Conductor of the Princeton Symphony Orchestra. In this position she conducted the PSO in ballet, popular classics, and holiday concerts and lead the Symphonic Orchestra of the Youth Orchestra of Central Jersey. An enthusiastic proponent of today's music, Ms. Flanders has given many orchestral and operatic premieres. She conducts The Chelsea Symphony in New York City and has served as cover conductor with Peabody Opera Theater from 2016-2017 and with the Buffalo Philharmonic for part of the 2014-15 season. With a deep commitment to educating the next generation of musicians and music lovers, Dr. Flanders conducts the Manhattan School of Music Precollege Division Symphony Orchestra, where she also teaches violin and conducting. She has previously taught at such institutions as the Aaron Copland School of Music at Queens College- CUNY, the University of Chicago, Utah State University, and the Campamento Musical Juvenil in Panama City, Panama. Ms. Flanders performs as a violinist, violist, and pianist in a variety of genres, including classical, baroque, blues, tango, and contemporary. She holds degrees from the Oberlin Conservatory, Mannes College- The New School, and the Peabody Conservatory of Johns Hopkins University, where she studied with conductor Marin Alsop.
LUIS VIQUEZ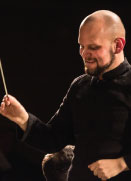 Classical Concert #4 | Bolero
March 12 & 13, 2022
A native of Costa Rica, Luis Víquez currently serves in the faculty at the University of South Dakota where he is the Director of Orchestras and Music Director of the University of South Dakota Symphony Orchestra since 2016. Equally at home as an orchestral, opera, and wind band conductor, his conducting career features performances throughout the United States, Costa Rica, Honduras, Guatemala, and England. At USD, he is also the conductor and co-music director of the annual production of the University of South Dakota Opera Theater and oversees the graduate program in orchestral conducting.

Luis maintains an active guest conducting schedule both at the regional and international levels. Recent engagements include the recording of the album "Costa Rica Desde Afuera" with the Orquesta Sinfónica de Heredia in Costa Rica (Musitica Records, 2018), and performances with the National Youth Wind Orchestra of Guatemala, the South Dakota Honors Orchestra, the Midwest Chamber Ensemble, the Emporia Symphony Orchestra, the San Jose National Concert Band and the Cartago Municipal Symphony Orchestra. Recently, he was selected as a conducting fellow of the Saratoga Orchestra as part of the Pacific Northwest Conducting Institute and realized advanced conducting training at the Royal Northern College of Music in Manchester, England.

As an avid advocate for music education, Luis is a highly demanded clinician and adjudicator throughout the United States and South America, having conducted for multiple honor orchestras and All-State festivals in the Upper Midwest area. He regularly publishes academic articles regarding his research in instrumental ensembles pedagogy and Latin American symphonic music.

Parallel to his career as a conductor, Luis is an accomplished clarinetist. He has appeared as a soloist with the South Dakota Symphony, the Sioux City Municipal Band and the Heredia Symphony. In the early years of his career, he served as a member of the National Symphony Orchestra of Costa Rica and toured with the World Youth Wind Orchestra in Taiwan. His chamber music performances have been broadcasted by the South Dakota Public Broadcasting and the University of Costa Rica Broadcasting System.

Dr. Viquez holds degrees from the University of Costa Rica (BM – Clarinet Performance), Truman State University (MA – Clarinet Performance & Wind Band Conducting) and UMKC Conservatory (DMA – Orchestral Conducting). He is a clarinet artist for the brand D'Addario Woodwinds.
JOANNA COCHENET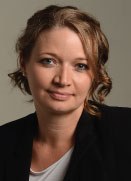 Classical Concert #5 | The Pines of Rome
April 23 & 24, 2022
Passionate and known for her inspiring leadership and creativity, JoAnna Cochenet is establishing herself in the conducting world as an energetic, sensitive, and thoughtful artist. As an ambitious and versatile conductor, she enjoys exploring and sharing a wide range of repertoire and music-making experiences with musicians and audiences.
Cochenet has conducted a wide scope of orchestras and soloists in concerts, workshops, and rehearsals in the United States and Ukraine. As a master class participant, she studied under such conductors as Sarah Ioannides, Jorma Panula, Dwight Oltman, Markand Thakar, Diane Wittry, Thomas Wilkins, among many others. Some ensembles she has conducted include the National Presidential Orchestra of Ukraine, Baltimore Chamber Orchestra, Smoky Mountain International Conducting Institute Orchestra, Bard Conductors Institute Orchestra, Norwalk's Pizazz Symphony Chamber Players, members of the Allentown Symphony Orchestra, Omaha Symphony, Omaha Area Youth Orchestras, Levine Music orchestras, George Mason University and University of Wisconsin-Milwaukee Orchestras and soloists, and more.
Former positions include Music Director and Conductor of Virginia's Youth Orchestras of Prince William County's Youth Philharmonia; Conductor of the Northeast String Orchestra and a church Music Director in the Hudson Valley, New York; Conductor, Cover, and Guest Conductor with the Omaha Area Youth Orchestras; Artist Faculty and conductor at the Omaha Conservatory of Music. Cochenet has been engaged Guest Conductor and Clinician for All-County and All-City Orchestra Festivals and other concerts around the United States. She enjoys mentoring sand assists in, creates, and implements many outreach endeavors for communities she serves.
Cochenet is in her DMA in Conducting studies at George Mason University in Virginia under music and private scholarships, is an Assistant Conductor of the GMU Symphony Orchestra, and a Graduate Teaching Assistant. There, she formed and conducts Sinfonietta Pastiche. At Levine Music in Maryland, she is the Founder and Music Director of an orchestra program and created and directs multiple proponents to the program, including her latest initiative: the Guided Listening Sessions, a series of lectures to help listeners better understand well-known and lesser-known works from full and chamber orchestra and opera repertory. She is also on music faculty at Northern Virginia Community College.