Timothy Chooi wins Stiftung Niedersachsen's Joseph Joachim Violin Competition
Date: Dec 11, 2018
Our violin soloist for the March ASO concert, Timothy Chooi, recently won a very prestigious competition.
This 24-year-old Canadian violinist is the first prize winner of the 10th Joseph Joachim International Violin Competition Hanover.
In the anniversary edition of the Joseph Joachim Violin Competition, the first prize in the amount of € 50,000 went to Timothy Chooi. The award includes the loan of a valuable Guadagnini violin, courtesy of Fritz Behrens Foundation, as well as international debut performance opportunities and the worldwide distribution of a CD.
NDR's Großer Sendesaal was the venue of the finalists' last great challenge: the performance of a grand violin concerto of their choice with the NDR Radiophilharmonie under the direction of chief conductor Andrew Manze. Afterward, jury members Salvatore Accardo, Andrej Bielow, Tanja Dorn, Masafumi Hori, Matthias Ilkenhans, Kyung Sun Lee, Silvia Marcovici, Qian Zhou, Ulf Schneider, Vilmos Szabadi, and Pavel Vernikov took one hour to come to a final decision.
Lavinia Francke, General Secretary of Stiftung Niedersachsen, congratulated the awardees, stressing once again the great significance of this achievement: "Since 1991, the Joseph Joachim Violin Competition has grown to become one of the most prestigious music competitions in the world. It fills us with pride and joy to be able to accompany these exceptional young violinists for a short while on their path to success."
---
We are very excited to have him perform with our own Allentown Symphony Orchestra!
Purchase your tickets TODAY, for best seat selection!
---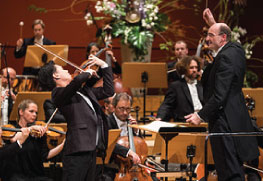 Timothy Chooi with the NDR Radiophilharmonie conducted by Andrew Manze, Final round 2 | October 25, 2018
Photo: Helge Krückeberg