Ronald Demkee to retire as ASO Associate/Pops Conductor and Principal Tuba in July 2024
Date: Aug 18, 2022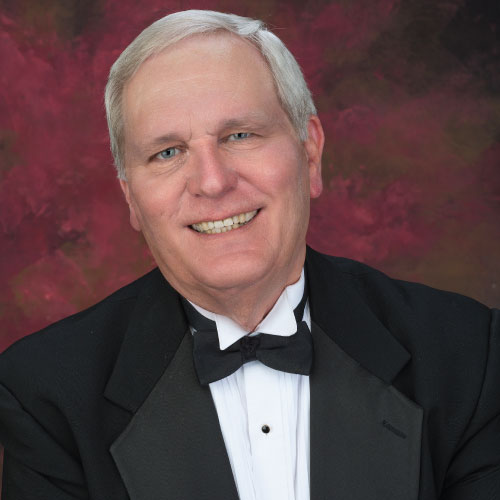 The Allentown Symphony Association announced today that beloved Associate/Pops Conductor and Principal Tuba Ronald Demkee will retire at the conclusion of the 2023-2024 season, which will be his 45th season as a member of the Allentown Symphony Orchestra (ASO).

"Live music in the Lehigh Valley and Ron Demkee are synonymous," said ASO Music Director/Conductor Diane Wittry. "We are honored at the Allentown Symphony to have had such a long association with Ron both as Principal Tuba and as Associate/Pops Conductor. He will leave behind a remarkable legacy at the Allentown Symphony which we will recognize and pay tribute to over the next two years." Wittry added, "However, this will not be a goodbye to Ron at Miller Symphony Hall!"

Wittry was referring to Demkee's long-time position as conductor of the Allentown Band which performs several concerts a year at the venerable 123-year-old theater in downtown Allentown.

Demkee's tenure with the Allentown Symphony dates back to the 1979-1980 season when he became Principal Tuba and first performed in that role in January 1980. He became the Orchestra's Associate Conductor in 1983, which included assisting founding Music Director Donald Voorhees as well as occasionally leading classical rehearsals and concerts for Voorhees and his successor William Smith. Demkee has also conducted Young Peoples Concerts, Holiday Concerts, numerous annual performances of "The Nutcracker" with the Repertory Dance Theatre, and most Pops concert programs. As the ASO began presenting more Pops concerts about a decade ago, Demkee was promoted to Associate/Pops Conductor. He also served as Orchestra Personnel Manager for 30 years.

"It has been a privilege to be associated with the ASO," Demkee commented. "I will, of course, remember these years fondly for the incredible artistic growth of the Orchestra, the many marvelous moments of music making, and even more significantly for the many meaningful and lasting friendships cultivated during that time. It has been a very fulfilling, rewarding, and enriching 43-year journey and there are still two more to go." Demkee concluded by saying, "I wish nothing but the best for continued success with what I am certain will be a bright future for the ASO."

Looking ahead, Wittry shared that, "I will continue to conduct some pops concerts, but we are going to start bringing in guest conductors and see how both our audiences and musicians respond to them. There is no set timeline or determination for appointing a new Pops Conductor, but that will be continually evaluated as time goes on." Wittry further explained that, "the Principal Tuba position will be auditioned at the appropriate time as is the case with any other open positions in our wonderful orchestra."
The 2023-2024 season of the Allentown Symphony Orchestra will be announced in February 2023.
Media Contact: Jonathan Eifert
pr@allentownsymphony.org
347.741.1913
###
ABOUT THE ALLENTOWN SYMPHONY ASSOCIATION (ASA)/ALLENTOWN SYMPHONY ORCHESTRA (ASO)
Operating the Allentown Symphony Orchestra (ASO), El Sistema Lehigh Valley, and owner/operator of Miller Symphony Hall, the Allentown Symphony Association (ASA) is one of the region's premier performing arts organizations.

Each year, the ASO performs more than 20 classical, pops, educational, and family concerts. In 2014 and again in 2017, the Orchestra received the national American Prize for "orchestral excellence." With passion and finesse, the ASO, led by Music Director and Conductor Diane Wittry, plays time-honored masterworks, newly commissioned world premieres, and intriguing repertoire, including works by prominent new composers.

Exciting world-class artists that have performed with the ASO include Midori, Emanuel Ax, Angela Meade, and Peter Serkin, as well as jazz trumpeter Byron Stripling, saxophonist Branford Marsalis, and Broadway vocalist Christiane Noll. The Orchestra's classically trained musicians include players from the major urban centers of New York, Baltimore-D.C., and Philadelphia.

Music Director/Conductor Diane Wittry is known for her innovative programming style, using video, dancers, subtitles, and other visuals that give her concerts a sense of occasion. She has been a stellar advocate for music education outreach for all ages and skill levels.

Lehigh Valley native and Allentown Band conductor, Ronald Demkee, has served as the ASO's Associate/Pops Conductor since 1983. The two previous ASO Music Directors were Donald Voorhees, the distinguished conductor of the studio orchestra for NBC's Emmy-award-winning "The Bell Telephone Hour," and William Smith, Assistant Conductor to the Philadelphia Orchestra under Eugene Ormandy.

The ASA has received music commissioning grants from the National Endowment for the Arts, and support from numerous funders, including the League of American Orchestras, for El Sistema Lehigh Valley (ESLV). Among numerous ASA Education and Community Engagement programs, ESLV is presented in partnership with the Allentown School District and provides more than 120 students with either weekly or daily string instrumental and choral instruction. Additionally, the ASA biennially hosts the National Schadt String Competition, which attracts top young performers from all over the world.

As it has for the last 71 years, the ASA continues its pursuit of excellence with passion, keeping alive the legacy of masterworks while bringing the works of modern masters to the concert stage for the entire community.
ABOUT RONALD DEMKEE
Ronald Demkee joined The Allentown Band in 1964 as the featured tuba soloist and was elected conductor in 1977. Under his direction, the Band has recorded thirty volumes of the highly acclaimed "Our Band Heritage" series, which have reached listeners in all fifty states and twenty-three foreign countries. These recordings are now available in CD and digital format from Naxos, i-Tunes, and Amazon. The Allentown Band, America's oldest civilian concert band, has been in existence since 1828 and averages forty-five performances each year. Under Demkee's leadership, the Band has taken three trips to Europe for concerts in Switzerland and Austria. In addition to conducting numerous high school honor bands and orchestras, Mr. Demkee has served as guest conductor for the Army Band, Army Field Band, Military Academy Band at West Point, Navy Band, Coast Guard Band, Marine Band, Air Force Heritage of America Band, and the Air Force Band. Furthermore, he served as Assistant Conductor for Leonard B. Smith's famous Detroit Concert Band where he conducted the Band for Mr. Smith's cornet solos in live performances as well as the highly praised "Gems of the Concert Band" recordings.

Mr. Demkee has been the Associate Conductor of The Allentown Symphony Orchestra since 1983 where he has worked with conductors Donald Voorhees, William Smith, and Diane Wittry. From 1983 to 1994 he conducted all of the Orchestra's Young Peoples Concerts, Pops Concerts, and Holiday Concerts. He has conducted performances of "The Nutcracker" for the Berkshire Ballet (MA), the American Ballet Repertory Co. (Princeton, NJ), the Lehigh Valley Ballet (PA), and the Repertory Ballet Company of Allentown. He has led the ASO in Subscription Concert performances featuring internationally famous artists including: Rudolf Firkusny, Cecile Licad, Robert McDuffie, Young Uck Kim, and Joyce Castle of the New York Metropolitan Opera. Demkee also serves as Pops Conductor for the Allentown Symphony Orchestra.

Ronald Demkee earned his bachelor's and master's degrees in Music Education at West Chester (Pennsylvania) University. In 1991 Muhlenberg College awarded him an Honorary Doctor of Music. He conducted the Freedom High School (Bethlehem, PA) Patriot Band, Orchestra, and numerous other instrumental ensembles, where he was also Chairman of the Fine Arts Department, from the time the school opened in 1967 until 1997. During his tenure at Freedom High School the Patriot Band performed in the nation's most visible parades including The King Orange Jamboree, Cotton Bowl, Sugar Bowl, Aloha Bowl, Fiesta Bowl, two National Cherry Blossom Parades in Washington D.C., and three Tournament of Roses Parades in Pasadena, California. After teaching in the public schools for 32 years, Demkee continued to teach in the music departments of both Muhlenberg and Moravian Colleges for another 18 years, culminating with 50 years of teaching from the elementary to collegiate levels.

Mr. Demkee is the recipient of several awards including: The National Band Association's "Citation of Excellence," The John Philip Sousa Foundation's "Sudler Legion of Honor," and The Allentown (Pennsylvania) "Arts Ovation Award" for Outstanding Achievements in the Performing Arts. In 2005 the Allentown Arts Council presented its first Lifetime Achievement Award to Demkee. He is an inductee of the "National High School Band Directors' Hall of Fame" and has been a member of the prestigious American Bandmasters Association since 1986. In April 2018, Mr. Demkee was named a West Chester University Distinguished Alumnus. The award honors WCU graduates who have served society, received outstanding acknowledgement in their profession, and positively affected a large number of people. He serves on the Advisory Boards of both the National High School Band Directors' Hall of Fame and the Association of Concert Bands.

When not conducting the orchestra, Mr. Demkee plays Principal Tuba in the Allentown Symphony Orchestra. He and his wife, Joan, who have been married since 1967, have two children, Mark and Elizabeth, both public school teachers, and four grandchildren Aidan, Sarah, Katherine, and Rose.