Youth and Family Concert - Peter and The Wolf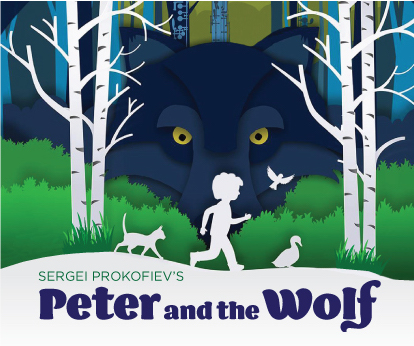 OVERVIEW
The Allentown Symphony Orchestra, in partnership with the Baum School of Art, is looking for original art from local young artists to illustrate our upcoming Youth and Family Concert in the 2020-2021 season!
Works will be featured on our "Peter and The Wolf" performance in January 2021. Selected artwork will be used to illustrate the scenes of the performance, as well as in some promotion of the concert, digitally and in print.
Possible use includes concert programs, flyers, brochures, social media, and websites.
There is no entry fee. Each artist will be provided with one (1) complimentary ticket to the streaming of the concert, and all art submitted that complies with the requirements will be showcased on a virtual gallery in our websites.

AREAS TO ILLUSTRATE
All artists must read and use the script as inspiration for their submissions.
You can find the script in English HERE
and in Spanish (español) AQUI
Submissions will be considered for one or more of the following areas: Characters, Scenes and Instruments.
Characters:
Peter, Grandfather, Hunters, Bird, Duck, Cat, Wolf,
Procession of all the Characters
Scenes:
Grandfather's house, Fence with a Gate, The Green Meadow, Tall Grass in the Meadow, A Tree, A pond, Dark Forest, High Stone Wall, A Rope
Instruments:
Strings - Violin, Viola, Cello, Bass, Flute, Oboe, Clarinet, Bassoon, French Horn, Kettle Drums (Timpani)
REQUIREMENTS AND TERMS FOR SUBMISSION

-Open to students K-12
- All artists must complete a registration form, available HERE
- Entrant must be a resident of the Lehigh Valley (Counties: Lehigh, Northampton, Berks, Montgomery & Bucks) or Carbon county.
- Art submission(s) must be original two-dimensional work. Any medium is acceptable (digital, acrylic, watercolor, pencil, etc.)
- Artwork can be created digitally or traditionally.
- If possible, traditional artwork should be submitted in a digital format such as a high-resolution scan or high-resolution photo, following these guidelines:
Layout of art should be Landscape or Horizontal.
Artwork must be submitted in one of the following formats: tiff, png, or jpg;
300 dpi with a minimum of 2000 pixels on the longest side.
- Each young artist may enter up to four (4) works of original art.
- Artwork should not be watermarked or stamped with copyright or trademark symbols.
- By entering this art competition, young artitsts are granting the Allentown Symphony Association a non-exclusive perpetual license to reproduce images of their artwork on marketing material, digital and print, for the upcoming Youth and Family Concert Series
- Entries must be submitted electronically, either through the submission form located at the bottom of this page, or dropped at Miller Symphony Hall (23 North 6th St, Allentown PA 18101) no later than December 18th 2020
- Abstracts are welcome and encouraged.
Questions? Please email Norma Nuñez-Ruch, Director of Education at nnunezruch@allentownsymphony.org
NOTE: If you experience difficulty or delay with the submission form, artwork can be emailed directly to nnunezruch@allentownsymphony.org
If the files are too large, feel free to contact us to find alternative ways to submit your artwork.