Event Calendar

Joint Concert with USAF Heritage of America Band and the Allentown Band
Monday, February 14, 2022, 7:30 pm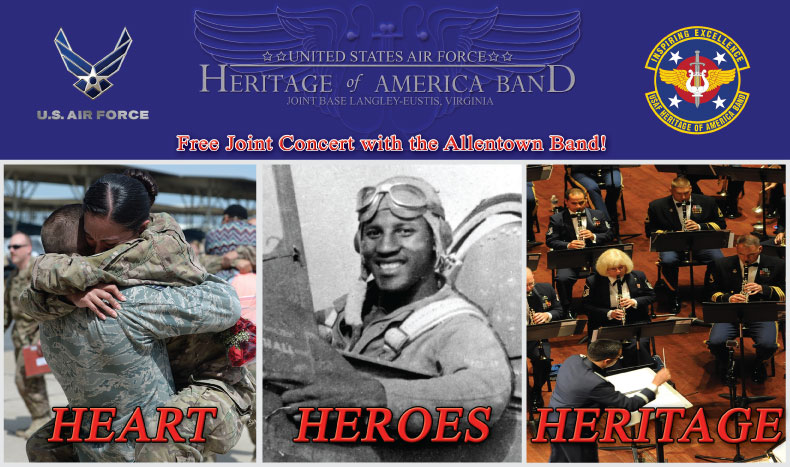 The United State Air Force Heritage of America Band from Base Langley-Eustis, Virginia, and The Allentown Band will present a Joint Concert on Valentine's Day.
Ronald Demkee will conduct the Allentown Band in Part 1 in a nod to Valentine's Day with the Overture to Glinka's "Russlan and Ludmilla," Selections from Giordano's "Andrea Chenier," and Wedding Dance from "Hasseneh" by Jacques Press. Met Opera mezzo soprano Patricia Risley will be featured in a medley of songs that is "Singularly Streisand," arranged by Ken Moyer.
Captain David Neil C. Regner, will conduct the USAF Heritage of America Band in Part 2 in a program to be announced.
Both bands will combine in Part 3 for the finale with several familiar patriotic selections including "America the Beautiful" and a medley of the Songs of the Armed Forces.
The concert is FREE, but tickets are required.
COVID restrictions are in effect.
---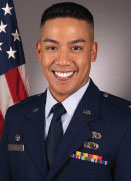 Captain David Neil C. Regner is the Commander of both the United States Air Force (USAF) Heritage of America Band based in Langley AFB, Virginia and the USAF Heartland of America Band based in Offutt AFB, Nebraska. He is responsible for leading 75 Airman musicians who are charged with connecting with 92 million Americans across 16 states.
Captain Regner was commissioned in 2017 as a graduate of Officer Training School in Maxwell AFB, Alabama. Since then, he has led and organized community engagement missions throughout the east coast and Poland. Such missions include supporting former Secretary of the Air Force, Heather Wilson; US Ambassador to Poland, Georgette Mosbacher; and the commanders of three combatant commands.
Prior to joining the Air Force, Captain Regner served for four years as a high school band director at Arlington High School in LaGrangeville, New York. During this time, he had the honor of being selected as a guest conductor for two premier bands of the armed forces: The United States Army "Pershing's Own" and The United States Air Force Band. Captain Regner earned his Master of Music degree in conducting at Northwestern University where he studied with Mallory Thompson and his Bachelor of Music degree in music education at Rutgers University where he studied with Darryl Bott.
---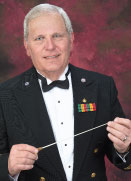 Ronald Demkee began playing in the Allentown Band in 1964 as a featured tuba soloist and was elected conductor in 1977. Under his direction, the band has recorded thirty-one volumes of the highly acclaimed "Our Band Heritage" series, which have reached listeners in all fifty states and twenty-three foreign countries. Under his leadership, the band has taken three trips to Europe for concerts in Switzerland, France and Austria. In addition to guest conducting numerous regional high school honor bands and orchestras, he has been a Guest Conductor for all the premier U.S. Military Bands. Demkee has been Principal Tuba with the Allentown Symphony since 1980 where he also serves as the orchestra's Associate Conductor and Pops Conductor. He was elected a member of the prestigious American Bandmasters Association in1984 and in 2018 West Chester University honored Demkee with their "Distinguished Alumni Award."
---
Patricia Risley is a versatile opera singer who is equally at ease with Broadway and popular song. Opera News hails Patricia Risley for "her voice…luscious and agile, her characterization both boisterous and tender" as well as her beautiful "singing with ease and certainty." Ms. Risley has sung at some of the most prestigious opera houses in the world, including Berlin Staatsoper Unter den Linden, Teatro Real (Madrid), Bayerische Staatsoper (Munich), Opera de Monte-Carlo, Innsbruck Opera, The Metropolitan Opera, Lyric Opera of Chicago, Houston Grand Opera, New York City Opera, Dallas Opera, Los Angeles Opera, Santa Fe Opera, Opera Company of Philadelphia, Opera Colorado, Glimmerglass Opera, and Utah Opera. Noted for her performances on the concert stage, she has also joined The New York Philharmonic, Ravinia Festival in Chicago, Israeli Philharmonic, Los Angeles Philharmonic, Boston Baroque, Grant Park Music Festival, Carnegie Hall, Oregon Symphony, and Radio Filharmonisch Orkest at the Concertgebouw in Amsterdam.
Ms. Risley resides in Allentown, where she has sung with The Allentown Symphony, The Allentown Band, Satori, and The Camerata Singers.
---