Event Calendar

BOLÉRO
Sunday, March 13, 2022, 2:00 pm
IMPORTANT INFORMATION FOR THIS WEEKEND
As you may be aware, in late February, Miller Symphony Hall suffered extensive water damage due to a backflow pipe that burst on the second floor. The administrative spaces, the outer lobby, Box Office, concessions, operations areas, and part of the Lyric Room experienced extensive damage. I am happy to say that the theatre was not damaged, and we are able to continue presenting our exciting season as scheduled. Construction is now under way to repair the damage, however, for your comfort, there will be a few notable differences when you arrive this weekend for the performances.
Please note the following:
· All patrons who have their tickets or e-tickets can proceed to the main entrance of the hall.
· All patrons who need to purchase tickets or pick up tickets at Will Call should enter through the side door, up the ramp in the Arts Walk. Members of the Box Office staff will be there to assist you.
· Concessions will not be available for purchase. Water coolers will be available on the first and second floors for patrons to refill personal water bottles. Cups will be available as well.
Usable restrooms are located on the first floor and on the third floor of the theatre. Those patrons located on the mezzanine level, please use the restrooms on the third floor.
---
Diane Wittry, Music Director/Conductor
Gabriel Martins, cello (2020 Schadt Competition Winner)
Pennsylvania Youth Ballet
---
P R O G R A M
DVOŘÁK
Cello Concerto in B minor, Op. 104
Allegro
Adagio ma non troppo
Finale: Allegro moderato
Cello Soloist: Gabriel Martins (2020 Schadt String Conpetition Winner)
RAVEL
Ma Mère l'Oye ("Mother Goose"), Ballet in One Act
Prelude — Spinning Wheel Dance
Pavane of the Sleeping Beauty — Interlude
Conversations of Beauty and the Beast — Interlude
Hop o' My Thumb — Interlude
Laideronnette, Empress of the Pagodas — Interlude
Apotheosis: The Fairy Garden
Ballet performed with dancers from Pennsylvania Youth Ballet
RAVEL
Boléro
Ballet performed with dancers from Pennsylvania Youth Ballet
---

---

Gabriel Martins, Cellist
Biography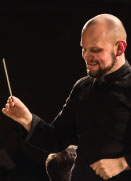 Luiz Viquez, Conducting Fellow
Biography
---