Event Calendar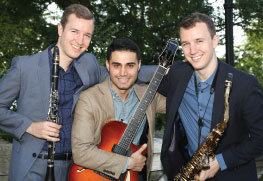 Peter & Will Anderson Trio
Friday, October 18, 2019, 7:30 pm
The Peter & Will Anderson Trio presents "BENNY MEETS ARTIE"
Peter Anderson - clarinet, tenor sax, soprano sax
Will Anderson - clarinet, flute, alto sax
Adam Moezinia - guitar
This is the story of two poor, Jewish kids from immigrant families in city slums with prodigious musical talent and burning ambition. They mastered an art form and created the soundtrack of a momentous decade, 1935 - 1945. Artie and Benny's music was sophisticated, upbeat and had great forward momentum - just what the country needed to shake off the gloom of the depression and propel the war effort. Benny Goodman sparked an international swing craze in the 1935, and premiered the first jazz concert at Carnegie Hall in 1938. Artie Shaw was a composer, author, and master clarinetist, pushing musical boundaries by blending American swing with European and Latin styles. Both swing-era bandleaders were among the first to racially integrate their bands, and their musical legacies have helped define the cultural identity of America. Songs will include Sing, Sing, Sing, Moonglow, Stardust, Concerto for Clarinet, and After You've Gone.
Peter & Will Anderson, clarinets, saxophones, flute
"Virtuosos on clarinet & saxophone" (New York Times), Grammy-winning Juilliard graduates and identical twins, Peter & Will Anderson are two of the most extraordinary jazz woodwind players today. Born and raised in Washington D.C., the Andersons moved to New York City to attend The Juilliard School. They've performed with the Jazz at Lincoln Center Orchestra, Vanguard Jazz Orchestra, Wycliffe Gordon, Cecile McLorin Salvant, Paquito D'Rivera, Wynton Marsalis, Frank Vignola, and can be heard on the 2014 Grammy-winning soundtrack of HBO's Boardwalk Empire with Vince Giordano's Nighthawks. They've headlined at The Blue Note, Jazz at Lincoln Center, The Kennedy Center, New Orleans Jazz Festival, Feinstein's 54 Below, Arizona Music Festival, Princeton Festival, Syracuse Jazz Festival, Sarasota Jazz Festival, Hilton Head's The Jazz Corner, San Francisco's Jazz at the Ballroom, The Louis Armstrong House Museum, Iowa's Bix Beiderbecke Festival, Nashville Jazz Workshop and live on Garrison Keillor's Prairie Home Companion Radio Program. The Andersons have performed in over 40 U.S. states, throughout Brazil, Japan, the U.K., and six times in NYC's famed Highlights in Jazz series, alongside Lou Donaldson, Jimmy Heath, Ken Peplowski, Steve Turre, Warren Vache, and Jimmy Cobb.

Vanity Fair magazine listed their album in "Four New Releases to Make You Love Jazz," and the Washington Post said they "consistently bring a fresh perspective to classic jazz."
Adam Moezinia, guitar
Adam Moezinia, a graduate of the Juilliard School's Jazz Studies program, has shared the stage with Herbie Hancock, Wynton Marsalis, George Coleman, Paquito D'Rivera, Jane Monheit, Jon Faddis, Antonio Hart, and Bobby Watson. He has also performed at the Hollywood Bowl, the Kodak Theatre, Monterey Jazz Festival, the Kennedy Center, Jazz at Lincoln Center, the Blue Note, the Jazz Standard, Joe's Pub, and Jazz Alley. Adam has also performed extensively as part of Freddy' Cole's Quartet. Recently, Adam has taught at "Jazz for Young People" as part of Jazz at Lincoln Center and Skidmore Jazz Camp in Saratoga Springs, New York.
---
---