Event Calendar

Pictures at an Exhibition
Saturday, March 10, 2018, 7:30 pm
Diane Wittry, Music Director/Conductor

First experience the world premiere of Pictures of an Exhibition 2018, a collaboration of the winning pieces from our composers competition. Pieces were based on artwork from the Allentown Art Museum. Promenades for this collaboration were created and winning compositions were arranged by Larrry Lipkis, Composer-in-Residence at Moravian College.
Next, enjoy 2017 Schadt String Competition winner, Tengyue Zhang who will perform Concierto de Aranjuez by Rodrigo, on classical guitar.
Finally, delight in the epic grandeur of Mussorgsky's Pictures at an Exhibition in a collaboration of music synchronized with photography, film and artwork, that will feature breathtaking animations produced by the USC School of Cinematic Arts.
---
Program
NEW COMPOSERS Pictures at an Exhibition 2018 (World Premiere)
Based on pictures in the Allentown Art Museum.
CLICK HERE FOR WINNERS BIOS AND PROGRAM NOTES
CLICK HERE FOR 2018 COMPOSER COMPETITION WINNERS INFORMATION PAGE
RODRIGO Concierto de Aranjuez
featuring Tengyue Zhang, 2017 Schadt Competition winner – Classical guitar
- Intermission -
MUSSORGSKY (arr. Ravel) Pictures at an Exhibition
featuring animations produced by the USC School of Cinematic Arts.

CLICK HERE FOR INFORMATION ABOUT THE FILM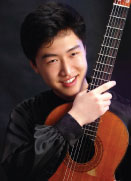 Tengyue Zhang Biography

---
---