Event Calendar

Viktorija Gečytė with Go-Trio
Friday, June 16, 2017, 7:30 pm
STEAM HEAT TOUR 2017
Allentown first up on Steam Heat Tour 2017!

Viktorija Gečytė is a Lithuanian-born, Paris-based vocalist who's steeped in the Jazz tradition. Earnestly delivering standards such as "That Old Black Magic" and "Night And Day" at Chris' (Philadelphia) with a sweet, unaffected voice and an engaging smile, it was surprising to find her singing without a noticeable accent, but lo and behold, she went to Lafayette College in Easton, PA. In Paris, she finds work singing in English and is in demand for her lack of an accent and her sense of swing, two things lacking in French native vocalists. Touring this year across the United States and Europe, she is performing with Go Trio, a very in-the-pocket crew headed by well-documented bassist Gene Perla, pianist Sean Gough, and drummer Nic Cacioppo with special guest, Ben Seacrist on trumpet.
---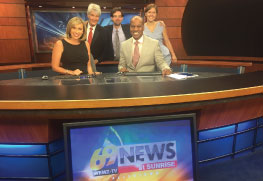 Viktorija and Go-Trio performed on Music Monday on 69 News at Sunrise Monday June 12th, in advance of her performance here at Miller Symphony Hall.
CLICK HERE to view the video.