Event Calendar

Holiday Pops!
Saturday, December 17, 2022, 2:00 pm
Note: Tickets for the 2pm concert go on sale Saturday, September 24, 2022
Diane Wittry, conductor
Phoenix Best, vocalist
It's Allentown's newest holiday musical tradition. Your family and friends will thrill to the spectacle of the season. It's a sparkling celebration of carols, classics, sing-alongs and more!
(And yes, Virginia, there will be a Santa Claus.)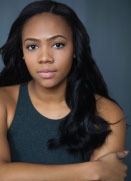 Phoenix Best, Actress
Phoenix Best is a Broadway Performer born and raised in Philadelphia, Pennsylvania. Best attended DeSales University in Center Valley PA, where she received her degree in Musical Theatre. As a student she performed in many of the mainstage musicals and dance concerts, but she is most known for playing the lead role of Velma Kelly in the department's production of Chicago. During the summers following her sophomore, junior and senior year, Best was an acting intern for the Pennsylvania Shakespeare Festival. Just months after graduation Best moved to New York City and landed her first Broadway show, the 2015 revival of The Color Purple, where she was a Swing/ASM. This production went on to receive Tony, Grammy, and Emmy Awards.
In the summer of 2017, she joined the Broadway company of Dear Evan Hansen as a vacation cover for the role of Alana Beck for two weeks. Just two months later, she booked the role of Eponine in the new North American Tour of Les Misérables. Best was on the tour for 5 months before getting the call to return to Dear Evan Hansen on Broadway to take over the role of Alana. She continued with the company for a little less than a year and a half, departing on May 5, 2019. Best rejoined the tour of Les Misérables in October of 2019 in the role of Eponine up until the pandemic shutdown in March of 2020.
Recently she has been seen in the filmed musical Estella Scrooge and lead the independent short film From Sea to Rising Sea. She appeared in the final episode of Love Life on HBOMax and worked on a new musical at ART titled Macbeth In Stride. Currently she is playing the lead role of Mary in the World Premier Musical AD 16.