Event Calendar

The Allentown Band presents "The Mark of Zorro"
Saturday, October 29, 2022, 7:30 pm
The film is the landmark 1920 silent film "The Mark of Zorro" featuring Douglas Fairbanks.
The Allentown Band will be performing an original score by Allentown Band Principal Clarinetist Steve Reisteter from the pit as the film is projected on the giant screen in Miller Symphony Hall, just as it was presented in America's great movie palaces a century ago.
---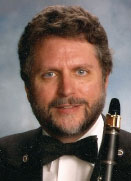 Steve Reisteter
Steve Reisteter is a woodwind player and a published composer, arranger and lyricist. A native of Bethlehem, PA, he is a member of the Allentown Band, the Allentown Symphony, the Hanover Woodwind Quintet and is the former music director/conductor of the Civic Theatre of Allentown. Steve's compositions and arrangements have been played worldwide by such ensembles as the Philadelphia Orchestra, the Danish Concert Band, the US Army Field Band and the Michigan Philharmonic Orchestra. As a pop musician he has played for such artists as Ella Fitzgerald, Bob Hope, Aretha Franklin, The Four Tops, The Temptations, Bernadette Peters, Johnny Mathis and for the national tours of "Grease" and "Chicago." Steve was an elementary general music teacher in the Whitehall-Coplay School District. He has been married to Johanna, the Allentown Band's second French horn player, for 36 years.