Event Calendar

Tchaikovsky's Fourth!
Sunday, April 16, 2023, 2:00 pm
SEASON FINALE!
Diane Wittry, conductor
Leonard Fu, violin (2022 Schadt Competition Winner)
---
Concluding the classical season, Tchaikovsky's Fourth Symphony roars with the much anticipated appearance of Leonard Fu, 2022 first prize winner of the Schadt String Competition; and a piece by Samuel Coleridge-Taylor, an English composer of African heritage who studied with Edward Elgar and has a similar musical language.
---
P R O G R A M

COLERIDGE-TAYLOR Overture to The Song of Hiawatha, Op. 30, No. 3

ELGAR Concerto for Violin and Orchestra in B minor, Op. 61
Allegro
Andante
Allegro molto
Leonard Fu, violin
— I N T E R M I S S I O N —
TCHAIKOVSKY Symphony No. 4 in F minor, Op. 36
Andante sostenuto — Moderato con anima
Andantino in modo di canzona
Scherzo: Pizzicato ostinato (Allegro)
Finale: Allegro con fuoco
---

---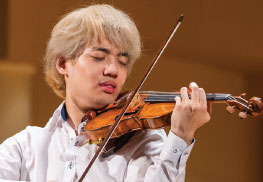 LEONARD FU
Chinese-German violinist Leonard Fu's love for music began at an early age when his two older sisters were practicing the violin and the piano and he started imitating the melodies on the piano by ear. Despite being non-musicians themselves, his parents saw his potential and enabled his first piano lesson at age four and his first violin lesson at age seven.
Since then, Fu has performed in several countries across continents, amongst them Germany, China, Russia, the United States, Italy, and Spain. He is an active soloist and chamber musician and has played concerts with major orchestras (Bremer Kammerphilharmonie, NDR Radio Philharmonic Orchestra, Frankfurt Radio Symphony Orchestra, Frankfurt Chamber Philharmonic Orchestra, Hamburger Sinfoniker, etc.), working with distinguished conductors such as Alexander Shelley, Andrew Manze, Elias Grandy, Marc Niemann, and Dietger Holm. His chamber partners amongst others include Janine Jansen, Amihai Grosz, Jens-Peter Maintz, Laurence Lesser, Kim Kashkashian, Jörg Widmann, Vivian Hornik Weilerstein, Thomas Riebl, Manuel Fischer-Dieskau, Nimrod Guez, Gregor Horsch, Peijun Xu, and Lucy Chapman.
In his young career he has already been laureate of major competitions, such as the Joseph Joachim, Andrea Postacchini, Rodolfo Lipizer, TONALi, Ton & Erklärung, and most recently the Schadt International String Competition in March 2022, at which he received the First Prize.
Fu has special interest in the performance of old music and dedicates time to the study of Historical Performance Practice.. He has worked with important figures such as Guy Fishman of the Handel & Haydn Society, Bernhard Forck of the Academy of Ancient Music Berlin, Gerhart Darmstadt, leading pedagogue of the HIP movement in Germany, and Audrey Axinn, esteemed fortepianist and Mozart expert.
Furthermore, he is an advocate for contemporary music and has received acknowledgment for performances of A. Schnittke's Violin Sonata, L. Berio's Sequenza VIII for Violin solo, W. Lutoslawski's Partita for Violin and Piano, and M. Davidovsky's String Quartet No. 4 as well as his own compositions. He closely collaborates with the upcoming generation of American classical composers such as Lingbo Ma, Robert Bui, Lila Wildy Quillin, and Daroo Lee. Together with his colleague and friend Yiliang Jiang, he was dedicated a violin duo ("Calligraphy", 2020) by Lila Wildy Quillin, which premiered in Jordan Hall in November 2020.
Fu has studied under Lara Lev and Tanja Becker-Bender and is currently enrolled at the Juilliard School of Music as an Artist Diploma student of Donald Weilerstein and Catherine Cho to whom he serves as a teaching assistant. Other musical influences have been Vivian Weilerstein, Ran Blake, Ian Swensen, Krzysztof Wegrzyn, Shmuel Ashkenasi, Hankus Netsky, Roger Tapping, Peter Salaff, and Efstratios Minakakis.
Outside of classical music, Fu has recently begun to explore writing and playing jazz music. Other interests include political activism, philosophy, languages, and baking. Graduating as the valedictorian from a science-oriented high school, he is a scholar of the prestigious Studienstiftung des deutschen Volkes which promotes and supports Germany's best students across all disciplines and subjects. He holds further scholarships from the Deutsche Stiftung Musikleben and the New England Conservatory of Music.
Fu is currently playing on a generous loan "Lorenzo Storioni, Cremona, 1781" from the instrument fund of the Deutsche Stiftung Musikleben.
---
---